It was a wonderful privilege to attend the in-person awards ceremony on a sunny spring day in London. The Academy award for CRPs focused on leadership and the judges had a difficult time choosing the 3 finalists from a strong field of over 20 applications. The finalists stood out for their commitment, dedication and skill in their contribution to research delivery.
Nicola Phillips works at Manchester University, NHS Foundation Trust and was commended for her efforts to ensure equitable research opportunities for all children and families to take part in research.
Sarah Betts, Glen Nishku and Cherry Paice were recognised for the exceptional work they have done in developing a competency toolkit for CRPs working in Guy's and St Thomas' NHS Foundation Trust. The project continues to make an outstanding contribution to CRP professional development across the local organisation and is informing national work.
Angharad Williams who works at West Suffolk NHS Foundation Trust is this years very worthy winner. The judges commented on Angharad's real strengths and her ability to promote and showcase how CRPs can develop themselves and work at senior levels. She is a strong role model, advocate and ambassador for research at local and national level.
Commenting on the event and her achievement Angharad said:
"I was so delighted to have been nominated for the Advancing Healthcare Awards for my leadership as an AHCS registered CRP! To be announced as winner was astounding and I am still overjoyed! It really proves that we can be leaders in any role, not just in management positions. The day of the awards ceremony was equally pleasing because there were so many CRPs being recognised for the work they do as healthcare scientists and we felt very much at home with our colleagues"
The award was presented by Ifan Jones, Chief Operating Officer for LCRN West of England, part of the NIHR Clinical Research Network. Ifan has vast experience working as a CTP within stroke research and is a great advocate for the profession working with colleagues across the NIHR.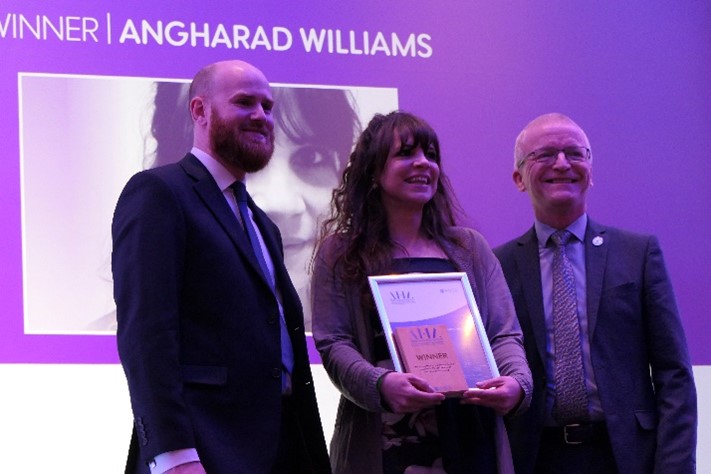 Ifan Jones, Angharad Williams and Allan Wilson.
CRPs were also recognised in the Rising Star Award 2022. Tasmin Mohammed, Senior CRP at Manchester Royal Infirmary and Ainhi Mac, CRP at the Christie NHS Foundation Trust were both recognised for their skills and contribution to research delivery.
Seeing such a strong presence for CRPs at home within the wider healthcare science workforce, really underlines the importance of taking time to celebrate and recognise the determination and leadership of CRPs and the impact you have.
You can find the winners guide and photos form the day here: https://ahawards.co.uk/uk/
Fiona O'Neill Advisor (CRPs) AHCS.