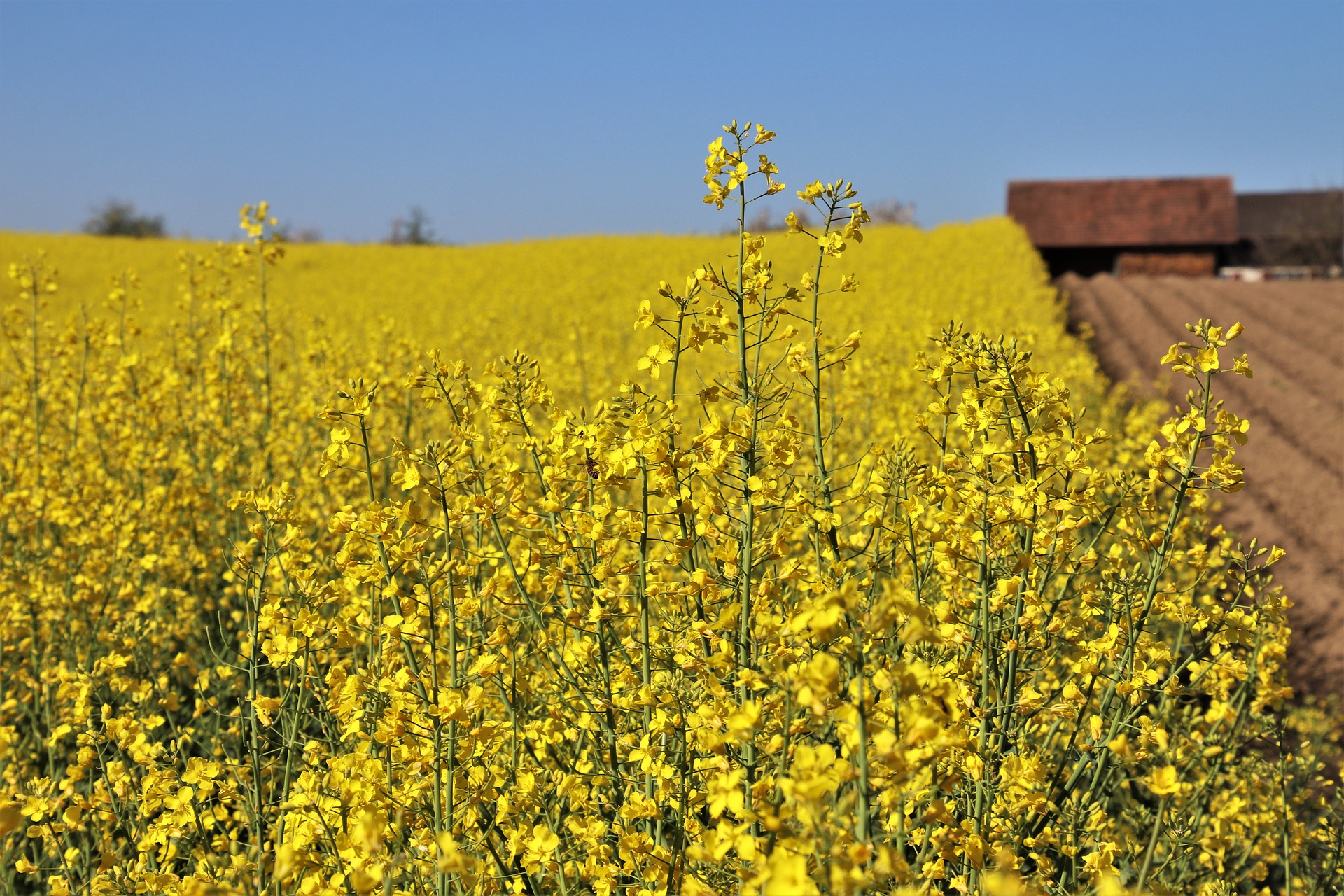 Clinical Research Practitioner Directory Bulletin | Issue 08 | July 2021
"

The #CRPractitioner Directory is currently free to join. We look forward to welcoming more CRPs to the growing community! For more information, and to apply, please visit https://buff.ly/2ZRspLB." Academy for Healthcare Science
NIHR Press Release: New accredited register marks significant step forward for Clinical Research Practitioner profession
The NIHR has announced the launch of a new UK-wide professional accreditation scheme for Clinical Research Practitioners (CRPs) as part of efforts to double the number of this important workforce over the next few years.

CRP is an umbrella title used for a family of roles in research delivery that have a patient-facing element and where the post holder isn't currently registered to a healthcare profession. The accreditation scheme – delivered in partnership with the Academy for Healthcare Science Accredited Registers Programme and recognised by the Professional Standards Authority – is a significant step forward for the development of the profession and acknowledges their vital role within the UK research delivery workforce.
CRP Directory & Register Update
We've seen a rise in directory and register applications since last month.

The numbers currently stand at;
37 on Register (+140 in progress to join Register).
881 on Directory.
We encourage you to share this news with your colleagues and encourage fellow CRPs to join the directory and in time apply to join the accredited register.
Experience before applying to the register
The register is for experienced CRPs and the guidance is that applicants need to have at least a year in a CRP role before making an application to the register. This is in addition to the educational requirements for a degree or equivalent. The extraordinary efforts made in response to the national research effort around the pandemic has clearly meant that many CRPs have had a period of very rapid development over the last 18 month and have the required experience even if they have not been in role that long. It is important that you discuss your application with your manager and if you both feel that you have completed the required competencies and consolidated your experience over a period of at least 12 months your application will be accepted for review.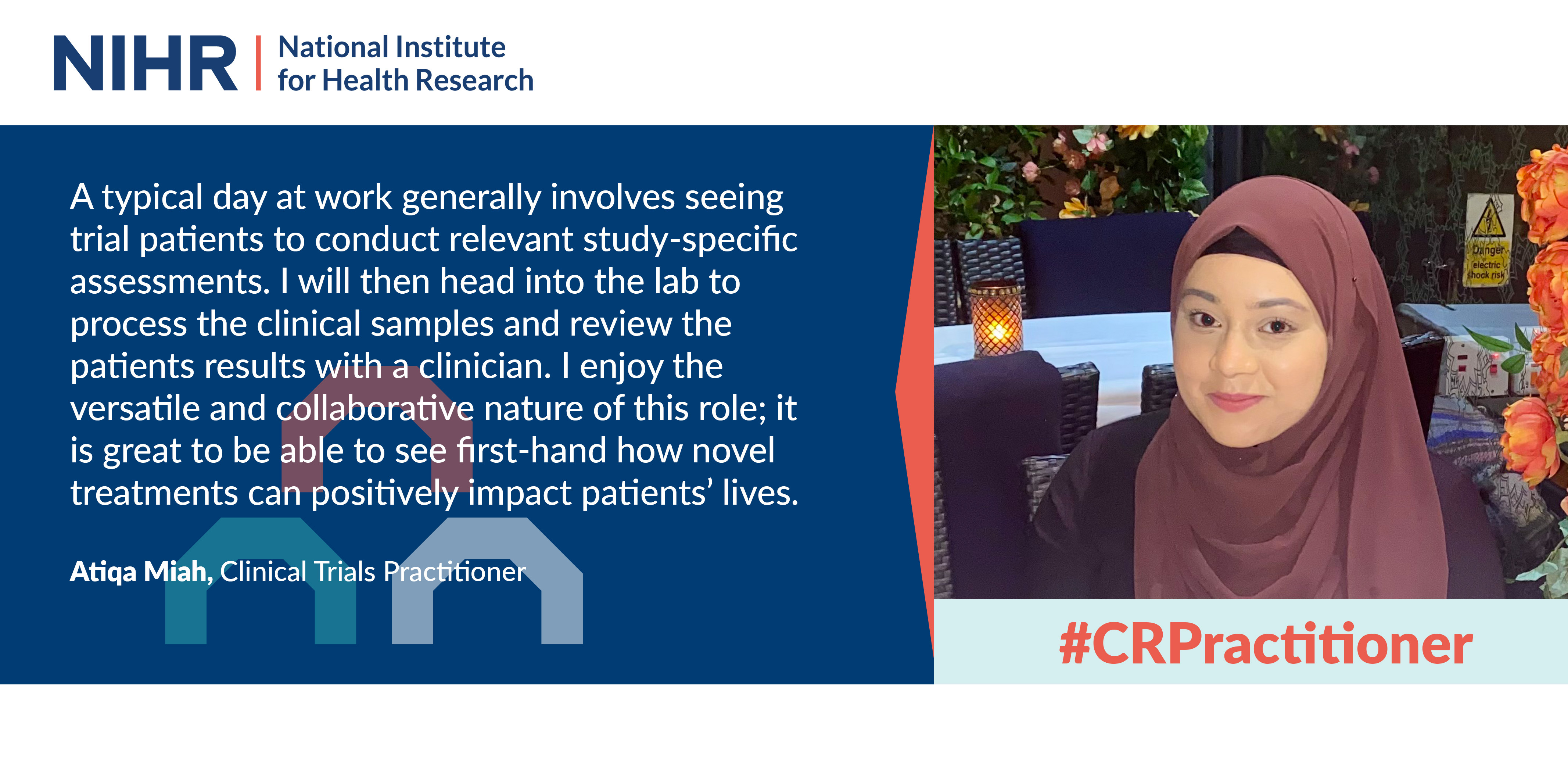 How did you become a Clinical Research Practitioner?
I fulfilled various roles within the field of Experimental Medicine whilst completing both my BSc and MSc degrees, this included working as a Research Assistant, Project Facilitator and Data Analyst amongst others. All these experiences combined fuelled my interest to deliver research and my desire to make a collaborative and positive difference to people's lives motivated me to become a Clinical Trials Practitioner.

What is involved in your day to day role/day in the life?
A typical day at work generally involves seeing trial patients to conduct relevant study-specific assessments (e.g. collecting vital signs, blood samples, ECGs, cognitive tests etc.), I will then head into the lab to process the clinical samples and subsequently, review the patients results with a clinician and report into our internal medical system in addition to the relevant trial electronic data capture platform. I enjoy the versatile and collaborative nature of this role; it is great to be able to see first-hand how novel treatments can positively impact patients' lives.

What was it like to win/ be shortlisted for the award?
I was honoured to be shortlisted as a finalist for the award and grateful for the recognition received, it was definitely attributable to the wonderful team I work with as it is only through our collective efforts that the work we do is possible.

Why did you join the CRP directory and what are the benefits of joining for other CRPs?
I joined the CRP directory as means of staying connected with the CRP world; it has been a great tool to stay up to date with all the latest news and developments.

Have you, or are you planning on, starting your application for the CRP accredited register? What does the accredited register mean for the CRP profession
Yes, I am currently working on my application for the CRP accredited register. I believe the establishment of the CRP accredited register truly shines a light on the vital and dynamic role all CRPs across the nation have in delivering life changing research.

Clinical Research Practitioners- the road to accreditation
Imogen Sargent is Clinical Research Team Leader (Mental Health) at Kent and Medway NHS and Social Care Partnership Trust (KMPT). Imogen and her team have recently become Registered Clinical Research Practitioners after taking part in the pilot programme for the CRP Register. Now the CRP Accredited Register is open for others to apply, Imogen discusses the accreditation process and the benefits it has had on her team.
What is a Clinical Research Practitioner?
For so long it has been hard to explain what a Clinical Research Practitioner (CRP) does! Throughout my career, I've been referred to as a research assistant or a researcher which is not my job. That is why the new accredited register is so great because it is the first step to acknowledging that a CRP is a professional role, and a skilled one as well.
A CRP's skill set is broad and covers a wide range of roles within research delivery that have a patient-facing element. We can support with a number of clinical tasks like ECGs or working on drug trials. In our trust CRPs work and lead on multiple drug trials. We have even gained consent on some drug trials where it does not need to be a Consultant Psychiatrist. We also work on psychological interventions, bloods and diagnostics, especially in Mental Health where we use quite a few standardised questionnaires to diagnose disorders or mental health conditions. A lot of the CRPs are trained to use diagnostic tools so they are able to for research purposes.

The road to registered accreditation
Before the wider launch of the CRP accreditation register, it went through a pilot process and myself and my colleagues put KMPT forward to take part. Myself and all of our delivery team are CRPs, except one OT and one nurse, so we thought we would be a good site to be involved. I felt strongly that it was an important project and wanted to be involved as much as I could.
To complete the applications we had to gather evidence on what we do as CRPs. We gathered documents to evidence how we have expanded boundaries, shown leadership in research, how we have delivered research and how what we do in our roles matches the scope of practice. Mapping it across to the NIHR Integrated Workforce Framework (IWF) and using that as a competency guide to look at how our competencies match.
Once submitted the AHSC's verifiers, who have to be accredited professionals, review the applications. In March 2021 our whole team were signed off and one of my team members was the first one to be signed off ever, which was hugely exciting.
The whole process has been exciting and really inclusive of CRPs. It does not feel like a process that has been driven from the top down, they have involved CRPs from an early stage to help devise the scope of practise. I feel like the NIHR and AHSC have been supportive and have taken it seriously which has added to its success.

Why is accreditation important to CRPs?
Before I was always having to prove and explain myself when someone said "Who is going to do X, Y or Z" and I can say "I'm trained to do that". It feels like a stepping stone towards people understanding the role. There is something about protecting the role through accreditation and providing a structure.
It is also important to see research as a career and I think the register means that people can progress and see the role of a CRP as a valid career path. People may have seen the clinical route as the only way into research but the new register is providing an alternate path with possibilities for growth and career progression.
Imogen Sargent | Kent and Medway NHS and Social Care Partnership Trust (KMPT) | Clinical Research Team Leader (Mental Health)
Don't forget about the CRP community space on NIHR Learn!
We have set up a dedicated section for the Clinical Research Practitioner (CRP) community, within the Frontline Research Engagement and Collaboration Community!
This sub-community includes the latest news regarding the CRP directory and Accredited CRP Register, and can also be used to connect and share updates, experiences or advice with your fellow CRPs! This will be accessible to everybody on the CRP directory (not just the register) and is a fantastic way to collaborate with others within your profession.
You can access this exciting addition to the community by following this link using an NIHR, NHS or academic email address!
Those of you receiving this bulletin are on the CRP directory (which is a prerequisite for accessing the CRP community space).

The enrollment key is: NIHRCRP2021
Please do not share the enrollment key with other colleagues as we wish for this space is bespoke for CRPs.
Stephen Burrows | NIHR CRN Workforce & Clinical Specialty Engagement Coordinator
Learning & Development Needs
Dear colleagues, the CRN National Workforce Development leads would like to ask for your views on the learning and development needs of the research workforce across the entire country now and in the future.

The NIHR CRN is dedicated to supporting the delivery of high-quality health and social care research across the nation which includes developing the knowledge, skill and capacity of the research workforce. We contribute to this through a range of training and development opportunities including courses, e-Learning and other resources.

We want to make sure that the courses and other opportunities we offer remain current and relevant. To do this we would like to ask you to complete a simple questionnaire to collect your views on research learning needs now and in the future.